Chase Gumbrecht: An Unprecedented Football Season
This year, the Central Regional Golden Eagles football team had an unprecedented season, starting out 6-0 and winning the Liberty Division. Although they ended the season 6-4, it was an all around successful season for the Eagles. The team was led offensively by star running back Chase Gumbrecht. Gumbrecht had a terrific season, rushing for over 1,000 yards and scoring a majority of the Eagles touchdowns. He was voted player of the week by both the Shore Football Report and @theshoresavages on Instagram multiple times. Gumbrecht is a force to be reckoned with and a pivotal part of the team's overall success.
I spoke to Chase, to hear his opinion on many of the aspects of the Central Regional Eagles Football Team, and here's what he had to say.
What are your feelings on how the football season went this year? Are you disappointed with the way it ended?
Gumbrecht: "Looking back on this year there's not much I would change at all. The losses to me are just another reason to get back to work. Of Course I would have loved to advance in the playoffs but everything happens for a reason and we are all ready for the next chapter for this team."
What is it like to be such a big part of the offense? Does the pressure ever get to you?
Gumbrecht: "It's always a great feeling knowing you carry a big role on your shoulders, but my teammates make that load a whole lot lighter, they play with all their heart for me so I do the same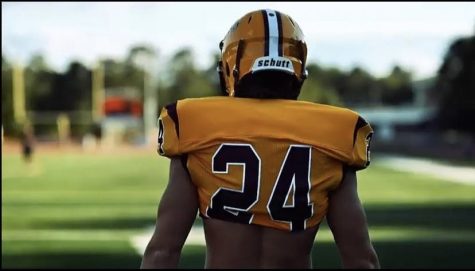 for them. Pressure doesn't affect me negatively. I love the pressure, it gives me and my team another reason to go be great!"
How is the team dynamic on the field? Do you and the other players work well together?
Gumbrecht: "This is one of the greatest teams I've ever been a part of and that goes way deeper than just skill on the team. This year has been eye opening for the Central football team showing everyone how a team of brothers could play. From day one this has been the best group of people I have played this game with and I could never ask for anything more. The bond we had this season is a bond that will carry on throughout the course of our lives."
What do you think the future looks like for Eagles football? 
Gumbrecht: "The future for Central Regional football is brighter than ever. For years we were always missing something and it's never been skill. Many have come to realize that to succeed as a unit you must work as one. A chain is only as strong as its weakest link. Bottom line is it's more than a game here at Central Regional, it's a family and a brotherhood and going onward with that mentality I see nothing but the brightest of futures for this school"
I also spoke to varsity teammate of Chase, Rudy Rinderer, who had this to say about him, "It's always been a pleasure to play with Chase. I'm glad that he finally had his breakout season this year, as I've been blocking for him since 8th grade. He is not only a good player, he is also a great teammate and friend to the entire team". 
Gumbrecht is projected to have another standout season next year, and on behalf of the football fans, I can say I am excited to watch what he has in store for next season. Watch out for Chase Gumbrecht, this is just the beginning.