Freshman Ryan Tomaino Teaches Tech to Rotator Class
Nicholas Selzer, Writer
May 5, 2019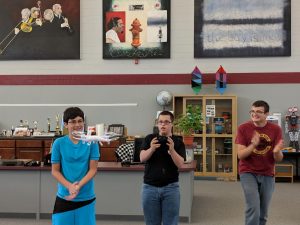 If you have ever taken a trip to the library here at Central, you may have noticed that in the corner by the coffee shop there is a collection of robotics and other tech-items.  Many of these include a variety of drones, 3D printers, a functional robot, and other tech items. For a while many of these items were not in working order, and many students were not able to use the collection of items to its full extent.  However this year, many of these items have been repaired thanks to a student here at Central.
Ryan Tomiano is a freshman here at Central, and started tinkering with the robotics during his lunch.  So far he has helped repair many of the drones, a 3D printer, and even helped in fixing a robot named "Steve" which was built by part of the Robotics club a couple years ago.  Ryan continues to work on the robotics in the library and has gotten the new 3D printer working along with some other drones.
Ryan also spends part of his Fridays with the special needs Rotator class every Friday.  It all started when Ryan was allowed to leave his 9/10 math class. During this time, the special-ed class was helping in the coffee shop when they noticed Ryan working in the robotics corner.  Many of them took interest in what Ryan was doing and went to talk to him. Once he met some of the special needs students, he showed them the drones he had fixed, and how to fly them. Ryan worked really well with the special-ed students, and was very comfortable around them.  The one robot "Steve" requires voice commands, and he was even able to pair his phone with the robot so some of the less vocal students were able to use him too. Ryan said that the special needs students enjoyed flying the drones the most, and now many weeks on Friday he meets with them to teach them more about robotics, and above all have fun.  Mrs. Bell said that from now on this is a permanent thing, and they really love watching how well Ryan works with the Rotator class.
Ryan has been working with robotics since he was he was very young, and is thinking of joining clubs such as the coding club.  Ryan works hard repairing things every day in the library, and if you ever have any questions about using the robotics there, he would be a great person to talk to.  Many of the staff and students at Central have noticed the great work he doing with not only the robotics, but the special-ed classes as well. After watching him work with some of the items in the corner myself it was clear that he had a real talent and passion for working with robotics.  
Ryan is only a freshman, yet he has accomplished so much already in his short span of being here, and has so much time to accomplish so much more.  Hopefully, he continues to keep working with the special-ed kids, and can show them how to use all the robotics here at Central.