Annual Interview with Dr. Parlapanides
The annual interview with Dr.Parlapanides', Central Regional's superintendent, in which we discuss topics that affect the school has commenced. In this interview, we discussed what would be coming to Central in the upcoming years, and especially next year, as well as other random questions.
Q1: In Central Regional, is there a drug/vaping problem, and how are we dealing with it?
A: Like all schools, vaping is the #1 problem, which is not tolerated. The bathroom doors have been left open to reduce vaping, but if caught, it's an automatic $250 fine. If students are found to be using drugs, they would get help, but if they're found to be dealing drugs, it's an automatic expulsion.
Q2: New classes are coming to Central as well as sports, so what are your recommendations for students?
A: The new classes that are coming to Central include computer science, coding, and a drama class, which can help students involved in the drama department further their interest in drama. Other classes are making a comeback like journalism, sci-fi:literature and film, and creative writing seminar. Central will also have a new boy's lacrosse team.
Q3: Central Regional is converting over to a block scheduling, so what'll be the impact on our school?
A: The intended goal is to reduce stress and homework on students by having four classes a day. Students would have eight classes for the year instead of seven, so students will have four even classes a day. The schedule accommodates all students, including those who go to vocational school or Humanities. Dr. Parlapanides' "favorite" benefit to block scheduling is the furthered personal relationship between students and teachers. Block also allows for another level of certain classes, such as Spanish, and so on. Lunches will also change too.
In the diagram below,  all lower case letters represent a lunch within a block period. These four rotations represent all the possibilities students may have for their lunch next year.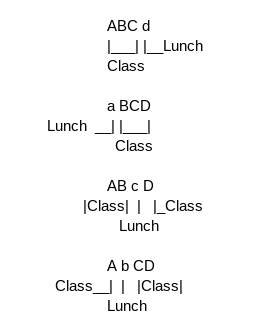 Besides new classes, sports, and scheduling, we will be getting more chromebooks to share between classes in the AB block schedule. The locker rooms will be updated with showers and more lockers. Central looks to get a new pool this spring.
As Central Regional High School looks to embrace change, we look ahead to what our school will make of it.