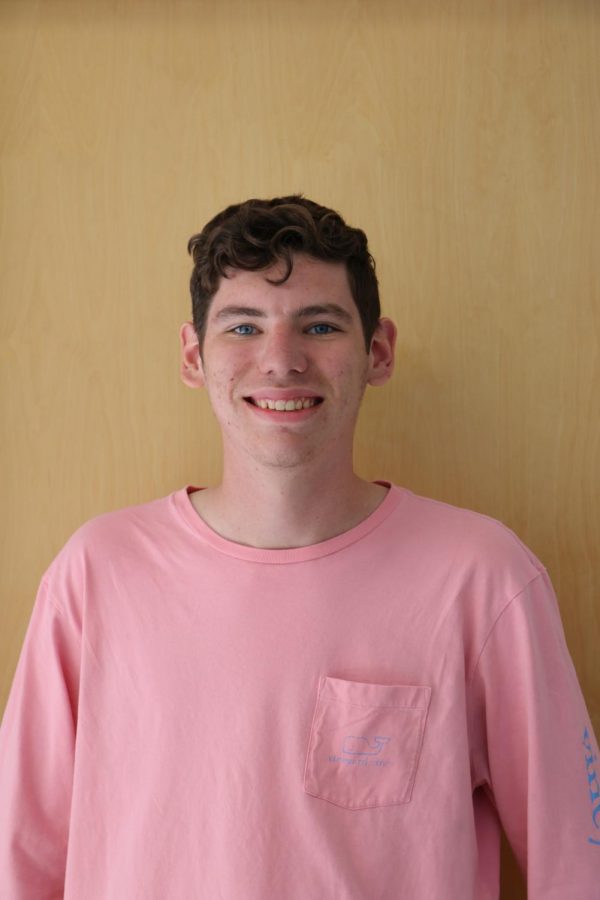 Janet Bell
Seniors of the Month both show exemplary effort in and out of the classroom. Jake Wilfrid holds a special place in the heart of many students and teachers here at Central Regional High School. Jake transferred to Central after moving to Bayville from South Toms River. Coming from Toms River South, Jake already had major involvement throughout there school whether it was after school arts to sports to in-class activities. While at South Jake was a part of the concert and a marching band playing the baritone saxophone. Another activity in the arts he participated in was their theater department. His freshman year Jake was apart of their production of The Drowsy Chaperone as a featured ensemble member. He worked his way from ensemble to lead within the year. As a sophomore Jake was the lead in their musical production of 1776 as Thomas Jefferson.
Bringing his talent to Central, Jake continued to be a part of our musical arts department. Over the course of his junior year, he demonstrated his dedication to the school's marching band and concert band. After years of hard work, Jake received the low brass solo in the marching band's fall of 2018 show, Pandora's Box Reopened. He also was able to demonstrate his leadership qualities and help the younger students in the marching band by being the low brass section leader. He continues to play music in his wind ensemble and concert band classes this year. His junior year, Jake was able to use his singing voice and joined the Chorale and men's choir. He quickly demonstrated his musicality and was a great addition to both groups. He also was apart of our fall musical "Scenes of Christmas" and sang the duet "How Deep is the Ocean" with alumni Marley Pullen. Jake then stared as the lead in our spring musical, On the Town. Jake played the character Chip who was the male counterpart of Hildy, played by Brianna Dorso. While preparing for this part, Jake went from having two left feet to being a dancing pro. Jake's uncle, Drew Wilfrid, has been Central's choreographer for the past 5 years. He is adamant to say, "Whenever Jake puts something in his mind, he is able to accomplish it. He was able to go from never having danced before to leading a show with countless ballet numbers."

Although he spends a great amount of time better the arts departments, Jake is also very involved in sports. Starting at South, Jake has been on the varsity tennis at both schools since his freshman year. At South, Jake played doubles and even made it to the state level with his partner. At Central, he started his first year playing singles behind J.T. Murry. He even played in the county championships receiving third place in the Singles 2 section. Jake is hoping to expand his involvement in tennis outside of school and even participate in after-school clinics and events.

Jake does not only excel in his extracurriculars. He is apart of Central's Georgian Court Humanities program and is currently taking college-level courses through the school. Besides those classes, Jake sticks to Honors and AP courses. During his time at Central, he took AP Language Arts and AP United States History during his junior year and scored a 3 and a 4 on respectively. This year he is taking AP Calculus. Currently, Jake has a GPA of over a 104.2. He also scored 1470 on his SAT and got a 770 on this math section making him one of the exemplary students getting recognized for having a score above a 750 in an individual section. At the end of his junior year here at Central, he was admitted into the National Honor Society commemorating his excellent effort in and out of the classroom. He has also been accepted to his first choice school, Rider University College of Business Administration, where he is planning on majoring in Business Analytics and Finance.

Of Jake Wilfrid, his best friend and girlfriend Abby Brooks says "Jake is nothing but hardworking and determined. He will not let anything, not bullying, peer pressure or intimidation, get in his way of achieving his dreams and trying to make the world a better place for his friends." Jake's mom, Mrs. Sabrina Wilfrid, is also a teacher here at Central Regional High School. Being in the education system, Mrs. Wilfrid has had her fair share of students at Central. Having taught his peers, Mrs. Wilfrid is "glad my son has been able to share his educational journey with the class of 2019 and my fellow colleagues. I believe Jake's talent, brains, and dedication fits perfectly with his fellow classmates and I am grateful he has been given the opportunity to attend school here. It's hard for me not to be biased, as I am his mother, but I am so glad Jake is being recognized for his years of hard work and I am extremely proud to have a son like him."
Having said all this, I would like to add my own personal experience being in school with Jake Wilfrid. He is one of my best friends and nothing can change my mind as to how wonderful of a person he is. Jake has not only helped me enjoy my high school experience, but also get over many milestones in my life. He has been a friend to me when no one else would, a person to make me laugh throughout long hours of drama practice, a person who steals my food through his infinite hunger, and just a person willing to go out of his way for anyone in his path.